Apple TV Instructions
To install the The Chapel app on your Apple TV (4th generation):
Select "Search" in the top navigation.
Search for "the chapel" or "chapel".
Locate and select the The Chapel app in the list (orange icon with white logo).
From the detail screen, select "Get" to add the app to your device.
Mobile App
Our mobile app allows you to watch live services and recent sermons, take sermon notes, register for events, read stories of life change, and view articles from our pastors and staff. It's a great way to keep connected to the life of our church right from your phone.
This app is available for iPhone, iPad, Android, Windows, and Amazon.
Download Now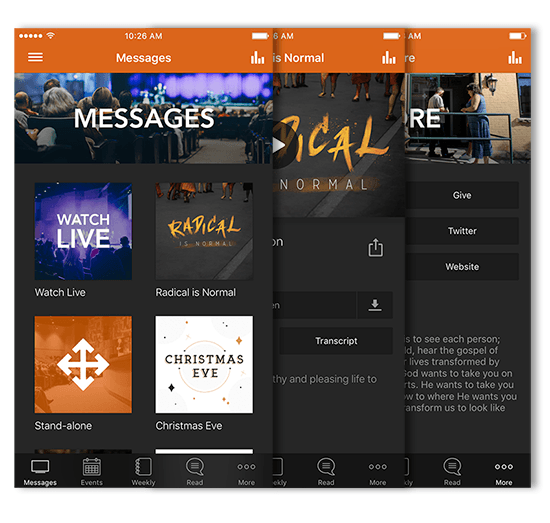 Roku and Apple TV App Features:
Live and Archived Services
Never miss a Sunday service with live and on demand video.
Resources
Get access to special events, worship videos and Discipleship resources.
Note: For anyone using an older Roku device, the best way to view our Sunday services is through the YouTube app (search chapelbuffalo)
The Chapel has a television program that airs on a number of local networks in the Western New York region every week. Each broadcast includes the previous week's message during the one hour program.
On WKBW Channel 7 (ABC affiliate), our broadcast airs at 7AM on Sundays.
Our broadcast can be found over the air on WBXZ digital channel 56.1 on Sundays at 5PM and on Mondays at 7AM.
We also have a local broadcast on LCTV (Lockport Community Television) for Time Warner Cable subscribers who live in Lockport. The LCTV broadcast is on channel 20 every Friday at 11PM, and every Saturday and Sunday at 6AM.
Every Sunday, you can listen to us, live at 11am, on WDCX.