WE CAN'T WAIT FOR YOUR KIDS TO JOIN US at one of our 9AM & 11AM Services at our CrossPoint, Lockport, Cheektowaga & Niagara Falls Campus. Doors open 15 minutes before service begins. Due to volunteer availability, space is limited. Child check-in is first come, first served.
King's World is a place where kids can experience the awesomeness of God in an environment that is just for them. They will learn the timeless truths of the Bible in a relevant, engaging way. Our mission is to ensure that ALL children have repeated opportunities to hear, see and respond to the Gospel of Jesus Christ and to lead them towards what it looks like to LOVE GOD, LOVE THE CHURCH and LOVE THE WORLD in their daily lives.
King's World has a Large Group/Small Group format. Small Groups give children the opportunity to build relationships with their small group leaders who in turn can help kids to build their faith. It provides an environment where children feel safe to share their thoughts, feelings, doubts and fears. The Small Group activities embrace the various developmental stages and different learning styles of kids, creating a fun and engaging environment for everyone. It is in the context of meaningful relationships that authentic life changes happen - where faith grows, develops and flourishes! Large Group engages kids' hearts in a large group setting through interactive worship, prayer and an innovative retelling of the Bible story.
When we talk about helping children begin to own their faith and join God on mission, we're talking about discipleship. At The Chapel, we define a disciple as "Someone who is daily following Jesus and compelling others to do the same." Discipleship is not just teaching children about faith, it is teaching them how to live out their faith. Rather than just asking, "What can I teach these children about God?" or "How can I get these children to believe the right things?" a discipler asks, "HOW CAN I HELP THESE CHILDREN LIVE OUT THEIR FAITH?" We believe that it's not just about teaching - it's about modeling what faith in Jesus looks like with our own life and giving them real life examples of how they can live out the things we teach them in King's World.
Parenting isn't easy and we realize as a parent, no one has more potential to IMPACT your child than you. One of the greatest ways you can impact the life of your child is to become intentional about PARTNERING with others who can have INFLUENCE with your child. Our desire is to become one of those "other voices" to help you speak truth into the life of your child. We hope that the relationships, environments and resources you find through King's World will help you as you seek to LEAD your child(ren) to know and have a personal relationship with JESUS CHRIST.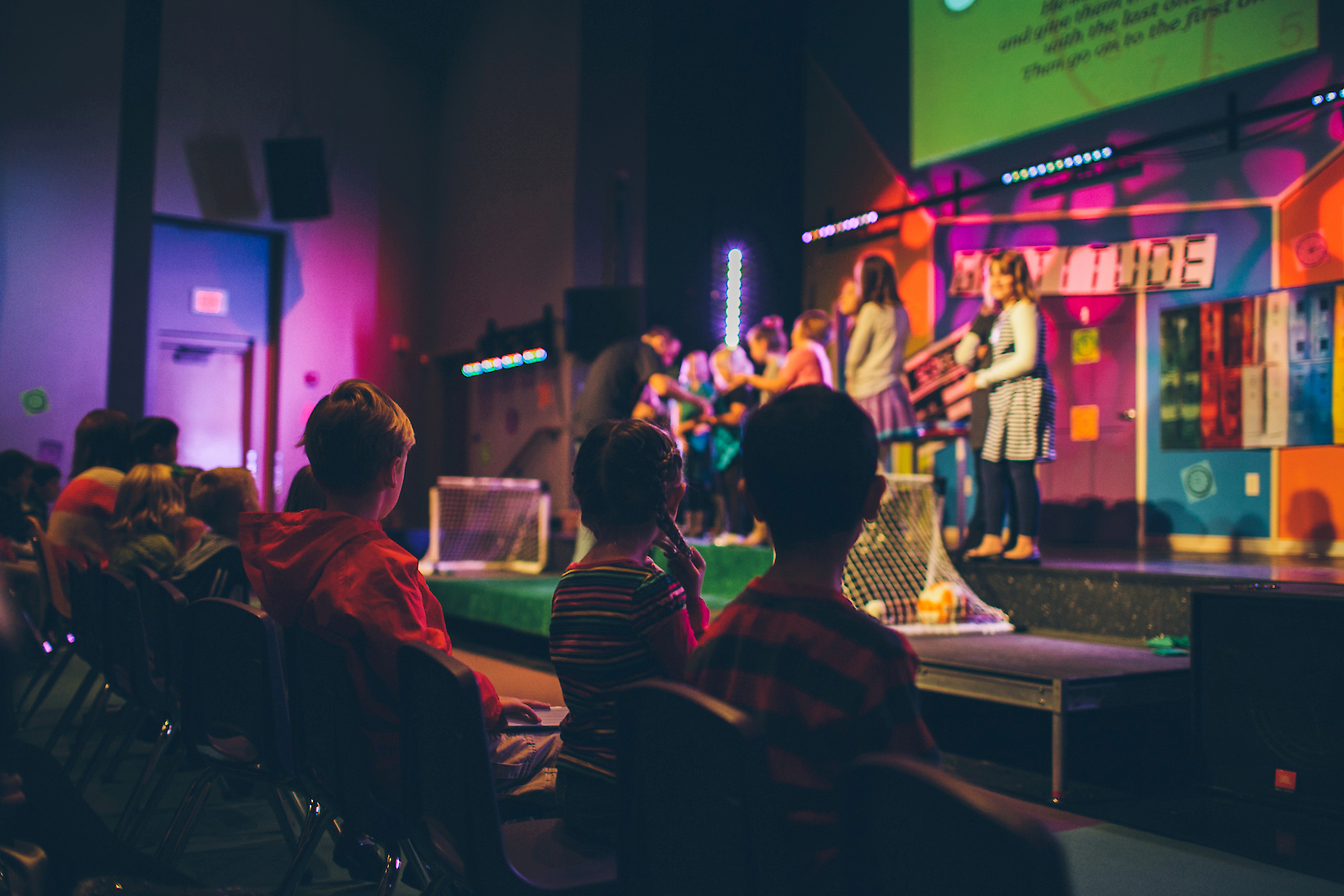 Environments
We are excited for you to join us!

We are honored that you are entrusting our staff of volunteers with your little bundles of joy. What a pleasure it will be for us to partner together to assist you in teaching your children about God.
We want to let you know what is available to you and your child and what you can do to make this a smoother transition for your little one.
Each Sunday you will be greeted by our caring volunteers who will ask for special instructions for your child. We will take your cell phone number so we can stay in constant contact with you, if a need arises. This works great for nursing moms to be called back if baby gets fussy. Accommodations are available for nursing moms. You may continue to watch the service in comfort while tending to your baby with privacy.
When you feel the time is right for leaving your child in the nursery we would like for you to have a diaper bag for your child. Examples that are great for diaper bags are diapers and wipes, change of clothes, favorite toy or blanket, a binkie, and, if it's feeding time, a bottle.
You may notice a bag tag attached to your diaper bag after service. This tag is to help our volunteers care for your children with a little more knowledge of what your child likes. On the tag there is a space for your child's name and the top three things that make them happy. On the other side of the tag is the Three Basic Truths that we teach in King's World. These would be God made me, God loves me, and Jesus wants to be my friend forever. These tags are designed to be removed for parents that don't want to leave the tag on during the week, but can be reattached for Sunday mornings. We also have extra's to replace them as your child grows and their likes change.
All of our nursery rooms have Cheerio's available for snack time. We ask that outside food not be brought into King's World out of respect for children that have severe food allergies. If your child has allergies please notify the volunteer each time you drop off.
We are so excited and can't wait to meet you and your little one on Sunday morning!
We are excited for you to join us!
While parents attend the Worship Gathering, kids will enjoy their own worship time at an age appropriate level. Kids will be greeted in their individualized small group rooms by their small group leaders. This is a time of connection, prayer, praises, and reflection with application of what they learned the previous week. Your kids will be moved into a large group environment where they will participate in worship through song as well as being taught and challenged in an incredibly POWERFUL and ENGAGING way. They will return to small group where the leaders will continue to build a relationship with the kids through discussion, activities, and prayer. Each of these activities are centered on the Bible Story for that particular week and how it applies to their day-to-day lives.
While parents attend the Worship Gathering, our Elementary age kids have the privilege to engage in a high-energy, fun environment suited perfectly for them. Large Group is held in the King's World Theatre where they will participate in worship through song, as well as being taught and challenged in an incredibly POWERFUL and ENGAGING way. They will head to small group where the leaders will continue to build a relationship with the kids through discussion, activities and prayer. Each of these activities are centered on "the bottom line" of the Bible Story for that particular week and how it applies to their day-to-day lives at home, school, and at play. This is also a time of connection, prayer, praises and reflection with application of what they learned the previous week.
Each BASIC TRUTH is systematically taught over a three-year track with 150 BIBLE STORIES and 36 CORE VIRTUES with MEMORY VERSES.
Leading With the End in Mind
...and Jesus grew in wisdom and stature and favor with God and man. Luke 2:52 We are partners with 252 basics. This is a curriculum designed to help children grow in wisdom, faith, and friendship. It is built upon three basic truths:
I need to MAKE THE WISE CHOICE so I will ...
Trust and follow Jesus - Spend time getting to know God - Do whatever God says - Become who I am created to be
I can TRUST GOD NO MATTER WHAT because ...
He is my CREATOR, GUIDE, SAVIOR, AND HEAVENLY FATHER
I should TREAT OTHERS THE WAY I WANT TO BE TREATED so I will ...
Show God's love to those around me - Care enough to put others before me - Respect whoever God puts over me - Be the right friend to those beside me.
We are excited for you to join us once we are able to open our Special Needs doors again. Please check back for updates.
Once we have the ability to open our special needs doors again, we recognize the value and needs of each child regardless of their physical, mental, or emotional limitations. We strive to offer opportunities for children with disabilities and their families, so that they may rise to the potential for which God uniquely created them.
We encourage you to contact Heidi Hall at 716.250.5089 or send a message to discuss your child's specific needs and identify which campus location would be best suited for your family.

INTEGRATION: We mainstream children with special needs into age appropriate small groups whenever possible. An aide will work with your child in their small group room.

SPECIALIZED ROOMS: Our preference is to mainstream all of our children in typical King's World classrooms. For those children with very specific needs, we offer 2 specialized, self-contained rooms at our Crosspoint Campus.

CURRICULUM: We utilize the 252 Basics curriculum (www.rethink.org). We modify the lessons to accommodate the student's strengths and interests.

VOLUNTEERS: We are blessed to have a loving group of people whom God has given a heart to serve children with disabilities, and their families. Among this group are many who have experience in Special Education Services, such as OT, PT, Speech Pathology, Special Education Teachers, personal aides, adaptive physical education, social workers, as well as family members.
FAQs
What is King's World?
King's is the children's ministry at The Chapel. It is available every Sunday morning for children from birth up to 4th grade. You can drop off your children in King's World, and then enjoy the adult worship service knowing that your children are well cared for, in an environment created just for them! King's World exists at all of our campuses, and King's World looks slightly different at each campus.
What time does King's World start?
Every Sunday morning during the adult worship services.
CrossPoint Campus: King's World is at 9am & 11am. Doors open at 8:45am.
Lockport Campus: King's World is at 9am & 11am. Doors open at 8:45am.
Cheektowaga Campus: King's World is at 9am & 11am. Doors open at 8:45am.
Niagara Falls Campus: King's World is at 9am & 11am. Doors open at 8:45am.
What will my children do in King's World?
The children begin in large group where they will learn timeless truths of God's Word through a stage communicator, singing and multimedia. They will then transition to rooms with a Small Group Leader, who will build relationships with them through fun activitiess, small group discussions to reflect on what they learned and an opportunity to build friendships. We want every child who participates in King's World to know, believe and live out our Basic Truths.
The three BASIC TRUTHS for our Walkers - Kinders are:
• God MADE me
• God LOVES me
• Jesus wants to be my FRIEND FOREVER
The three BASIC TRUTHS for our First - Fourth graders are:
• I need to make the WISE CHOICE
• I can TRUST GOD no matter what
• I should TREAT OTHERS the way I want to be treated
Where do I go on my first Sunday in King's World?
Please visit our check-in area at any of our campuses. Our King's World hosts will greet you and help you register your child into our computer system. They will answer any questions you may have.
What safety procedures are in place in King's World?
We take your child's safety very seriously. All children will be registered through our computer check-in system. Each child will receive a security name-tag along with the matching tag for their parent/guardian. All children MUST be wearing a security tag to enter a small group room. Parents must have the security tag to pick their child up from their small group room. We will ask for your cell phone number, which will be added to your child's name tag. We will text you in the event your child encounters any difficulties or requires special attention.
What curriculum do you use in King's World?
We adapt a curriculum created by ReThink on www.whatisorange.org.
Is there a wellness policy in King's World?
We ask that children who are sick not attend KW in order to ensure the health of other kids/staff.
What is the worker to child ratio in King's World?
There is a different ratio per child in every area of KW. Please reference ratio numbers in our Safety & Security section.
Can I volunteer in King's World?
Absolutely! King's World is a wonderful place to get connected with a warm community of volunteers, and invest in the next generation! We are always looking for cheerful and dedicated volunteers to join our greeter, tech, large group stage communicator, special needs, registration, and small group leader teams! Please contact the KW office to get started or click here.
What can I do to reinforce my child's learning at home?
FAMILY PARENT CUE BOOKLETS
We are here to equip you because we believe what happens at home is MORE IMPORTANT than what happens at church! Over the course of a year, parents have an average of 3000 hours with their kids compared to the 40 hours the church has.We want to engage every parent to have positive influence in the spiritual development of their own kids.
A CUE is something serving as a signal to begin a performance. Our goal is to make it easy for parents to remember what's important. These cards correspond with each monthly theme and what we are teaching your child in King's World. They will challenge you to think about the phase your child is currently in. Have you heard the phrase "It's Just a Phase"? Well a phase is a timeframe in kids' lives when we can leverage distinctive opportunities to influence their future. That means the whining toddler, the dramatic fifth grader, and the stressed-out tenth grader are not just "going through a phase" that should be wished away; rather, they are transitioning through critical periods that we are called to discover, celebrate and navigate strategically with them.
It also includes ideas to try something with your child specifically during the times of days when they are naturally more engaged (i.e. morning time, drive time, meal time, bed time) based on Deuteronomy 6:7- Moses instructs parents to teach biblical virtues to their children: "Talk about them when you sit at home, when you walk along the road, when you lie down and when you get up."
AND ... try the Parent Cue App too! It syncs to what we are teaching and so much more! It helps cue you with what you need, when you need it, so you can be the parent you want to be.
MY DAILYTIME WITH GOD BOOKLETS
These are monthly devotional booklets for children to use at home to help focus on what matters most (includes the Bottom Line to help kids walk away from the lesson and remember what matters most). These cards prompt action beyond the experience and helps to continue conversations throughout the week and encourage children to be in God's Word daily.