EBOLA Must Be Stopped
Discovered in 1976 after 284 people died, this terrible disease has continued to emerge sporadically in places throughout Africa.However, nothing previously has even come close to the current crisis facing Western Africa. The present breakout, that is still active and in many places expanding, has infected more than 8,000 and claimed nearly 4,000 lives. This is truly a crisis that threatens the cultural fabric of the nations in which it is active. Many of these communities, even entire nations, were hanging in the balance before this outbreak and now the scales are tipping in the wrong direction. The situation is dire. Not only are people being infected and killed by this disease but those in these communities are experiencing what I call Ebola-shock which is what is created in, around, and after Ebola comes through a community.
Obviously, there is the direct impact of this disease in which those who are sick are isolated in make-shift triage holding centers at the edge of the village while their family is quarantined in some cases under armed guards. In some places the entire village is quarantined and in other instances entire areas are quarantined in hopes of stopping the spread of the disease. However, this isolation approach creates other challenges for those who are not sick. How are they to get food and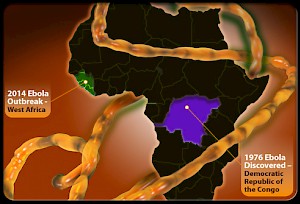 other medical supplies, and how are others to support those needing help but not necessarily sick? What about people in these areas who have other sicknesses when all available resources, which were scarce to begin with, are now consumed fighting Ebola? This becomes a seemingly impossible situation. So, Ebola-shock as I call it, creates an immediate crisis for those infected but also creates a far wider crisis for those in the surrounding community by threatening their ability to eat, to care for others, and to care for the children being orphaned. In addition, several important community services are suspended in these situations such as school and other civic functions of the government.
Many valiant people are responding to this crisis to help with the primary need of caring for those infected. This is needed and something we all should encourage from our respective governments and from those that can offer such support. Isolating these nations and communities from help does not help. They need resources to build more hospital beds and more resources as in workers and medical supplies to care for the people infected. So, what can we do? Plenty….
We can pray for those there and we can work together with who we know and what we have. In fact, this very thing is happening. The Sierra Leone Alliance of Western New York has been meeting, discussing and implementing a plan to bring food to these communities. Food is a huge challenge in communities that are impacted by Ebola given they are basically cut off from the outside world. Many families in these communities are literally locked down in their homes for weeks while the incubation period comes and goes. While they wait, they literally begin to wrestle with starvation. In desperation, some in quarantine have and will continue to escape to find food creating more chaos for the community. These families are faced with an incredible dilemma—wait at home and starve, or risk the wrath of the community/authorities to get food. This is where we have determined we can make the biggest impact today.
Specifically for Sierra Leone, the disease has infected more than 5,000 people and has killed over 2,000. It is still spreading especially in the Western districts where there is a higher concentration of people. For those living in these areas, this is an urgent and catastrophic situation. The Alliance feels compelled to engage in helping those there and, in fact, is doing so. We are present in these communities in that the Alliance has resources, people, and networks that can be leveraged to help. While we are not equipped to tackle the disease directly, we are equipped to help in other ways. As mentioned earlier in this letter, food is the most pressing need we can help meet. There will be others as time passes but food is one of the most critical needs today.
Scripture is clear as to God's expectations for His people as they represent Him in this world. "If anyone has material possessions and sees his brother in need but has no pity on him, how can the love of God be in him?" (1 John 5:17 NIV) The people of Sierra Leone are crying out to God for help. We have heard story after story that when help arrives for those in desperate need they thank God and say among themselves "God provides." We are and can be the instrument of that provision. God is Jehovah-jireh and as His people we are called to act on His behalf in a likewise fashion so that this world will see and experience His mercy, love, and care. This too, then affords an opportunity for hearing and responding to the message of the gospel. So, what can we do and what is being done?
As it stands, the Sierra Leone Alliance of WNY has put into motion a Food Program for the next 12 months that enables the Alliance to work through its in-country network led by indigenous leaders, to feed those families in most need in the communities in which we have relationships. The members of this Alliance are Jericho Road Community Health Center, Global Outreach Mission, Houghton College, World Hope, let them LOL, EduNations and The Chapel. Through this Food Program, we will be able to touch communities in 8 of the 14 districts within Sierra Leone which represents hundreds of families. This Food Program has a budget of $210,000 and so far we have raised $62,000, noting that one nutritious meal costs only 25 cents. So, for one dollar a family of four can have dinner today. My prayer is that you will be moved to give to this endeavor. The Chapel will be taking up a special Thanksgiving Offering over the next couple of weeks. All funds received designated for the Thanksgiving Offering, will be given to the Sierra Leone Food Program. You can also send a check to The Chapel, 500 CrossPoint Parkway, Getzville, NY 14068 and denote your gift as Thanksgiving Offering or Ebola Food.
May God continue to use His people here to provide for people there. He is truly Jehovah-jireh for He sees and He provides!
---
Share This